Introduction
The purpose of this board briefing is to provide more information on the Leading Governance model of board and organisational development.
What is the Leading Governance model?
Leading Governance has worked with a wide range of boards from the private, public and community sectors and has helped them execute their responsibilities both in terms of compliance and leadership. Our experience has led us to summarise the areas in which a board must lead in the following model.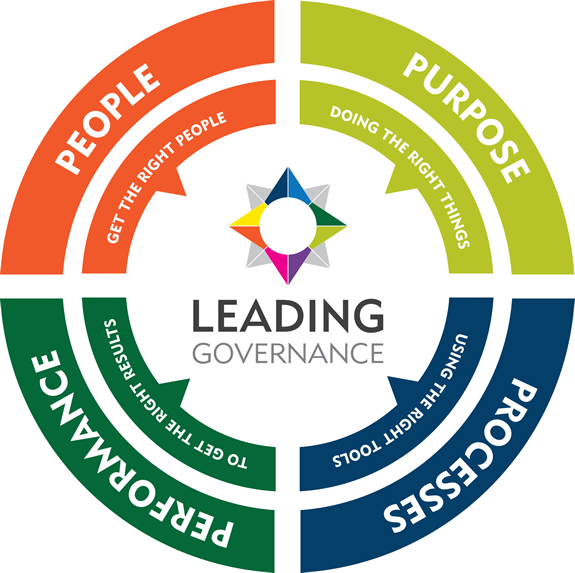 An effective board has the right people in the boardroom, with all the skills, knowledge, experience, attitudes and networks needed to drive the agreed priorities. It works well as a team, and provides leadership to all the people in an organisation. Knowing how to get the best out of people is one of the key elements to being a leader.
The board is responsible for ensuring that the objects of the company, as set out in the constitution, are being followed. The board develops the strategic vision for the company, and should ensure that it communicates appropriately with all key stakeholders, including members and staff, when deciding on strategic direction.
The board should ensure that relevant company policies and procedures are in place and are being followed. There should be clear processes for ensuring that the board agenda is focusing energy on the right issues at the right time, that the right questions are being asked, and the right decisions made.
The board is responsible for monitoring the performance of the organisation, and challenging management to ensure the organisation is operating within the law, its legal framework and for the benefit of its stakeholders. In addition, the board should regularly review its own performance, and that of its members, to ensure it is contributing to the advancement of the organisation.
Each of these elements has a number of sub-elements for which Leading Governance has provided further information. Please consult the relevant sections in our website for more details.